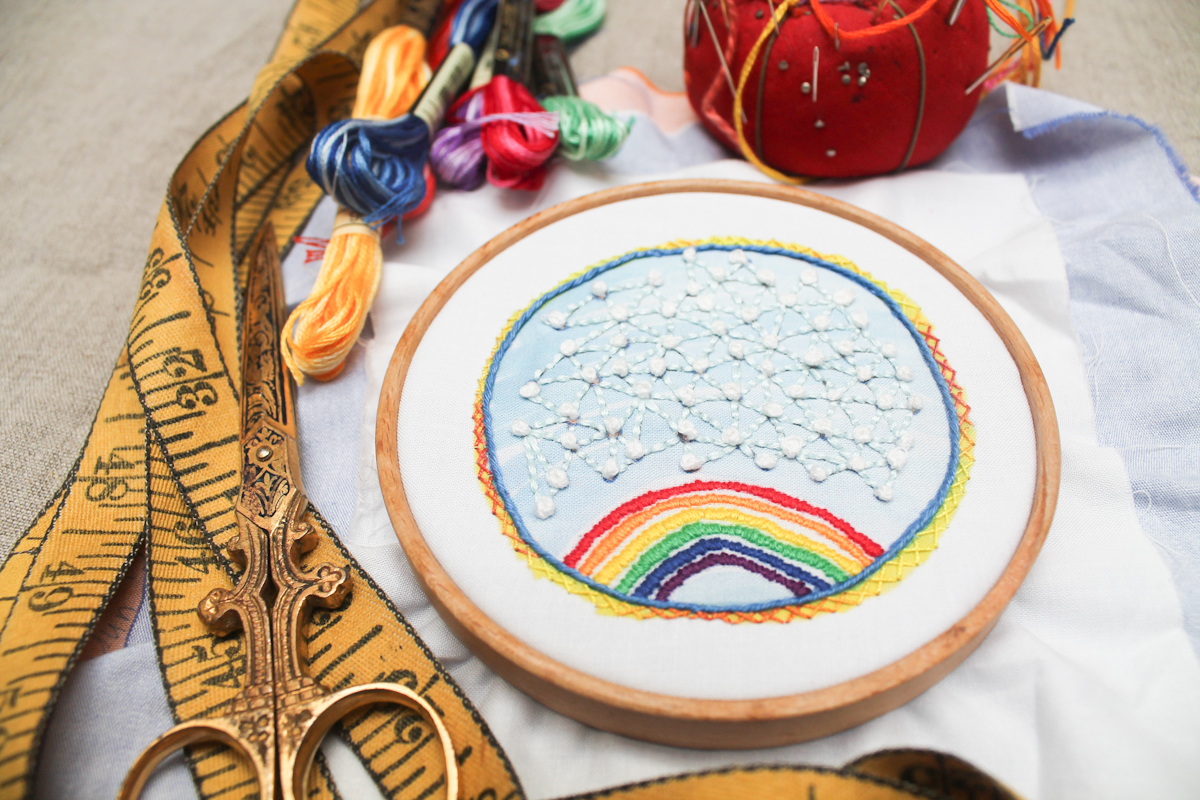 Where can I get a Dropcloth Sampler?
RIGHT HERE! Or try your local stitching, knitting, or craft shop. Please see our list of Stockists to find a location near you.
What kind of thread should I use?
For the samplers, we primarily use DMC Perle Cotton, Size 8 (the kind that comes in balls). It tangles a lot less than six strand floss, and it has the added benefit of not having to be separated. It also has a really nice sheen. Other people have used six strand floss, and this works great as well. In addition to DMC, we also like to support smaller thread dyers, including:
DyedFiber - Hand Dyed Cotton and Tencel Threads. Made in Texas
Weeks Dye Works- Hand Dyed wool, cotton, and perle cotton threads. Made in North Carolina
Where do you buy thread?
In New York City, We buy DMC perle cotton at Daytona Trimming Company. They have every color that DMC makes. There are lots of other shops near there in the garment district that are fun to wander in and out of, but Daytona has the market on perle cotton cornered. Check with your local counted cross stitch or yarn shop, lots of them carry this size perle cotton for crocheters. Lots of quilters like this thread too, so your local quilt shop might have it. Still stumped? Herrschner's has it.
What kind of needles do you like the best?
Our favorites are Size 5 Clover Gold Eye Embroidery Needles for most stitches, and Milliner's needles for french knots and other tricky twisted stitches such as bullion knots. For weaving stitches, I keep a small to medium sized blunt tapestry needle on hand.
Should I use a hoop?
That's a personal choice. We always recommend using a hoop, since it cuts down on hand strain and keeps all your threads evenly tensioned. However, some people just don't like hoops, and that's fine too.
Do the samplers come with instructions?
All the samplers come with instructions for a few stitches to get you started. Some, like the original and color wheel, have labels on each stitch so you'll know which to use. Others are more open ended. All labeled stitches are easily found in an embroidery book. In addition, I teach two workshops based on the samplers at Creativebug.com
Two of the samplers, Original and Sequel, are meant as instructional guides. Rather than coming with instructions, each stitch is labeled and clearly drawn on the fabric for you to stitch over the top of. Instructions for these stitches can be found in most embroidery books (check your library!) or through the online classes that I developed specifically for these samplers, which can be found at Creativebug.com. These classes walk your through each stitch on step at a time and can be watched over and over until you've mastered each stitch.
Do the designs wash out?
The Dropcloth Sampler patterns are permanent, and provide either a written label for each of your stitches, or a colorful background, or in some cases- both! If you plan on washing your sampler, we recommend that you do so before you start stitching to prevent any warping that could occur from fabric shrinkage. Of course, many embroideries never need more than a little hand washing in the bathroom sink. For that, we recommend a gentle detergent like this one.
How do I go about backing the samplers?
In general, I tend to like to stitch through at least two layers of fabric at once. This helps the fabric lay tighter and neater in the hoop, and it helps the stitches keep their tension in the long run. Typically I use cotton or linen for the backing layer. I often use a contrasting or matching colored cloth. Some people have also reported that lightweight iron on interfacing works well.
Do you ever teach classes based on these samplers?
Yes- check the Workshops & Events page for more information. Since I am just one person, in addition to me, some of the shops that sell the samplers offer workshops based on the samplers. Check with your local shop to find out about upcoming events. Are you a shop-owner interested in wholesale orders and or classes? Great! I'd love to hook you up. Send me an email- dropclothsamplers@gmail.com
Do you sell completed, stitched samplers?
No. We sell patterns for you to stitch yourself.